Garrison Inn - The ConQuest Tenthotel
Less Hassle, More LARP
What is the Garrison Inn?
The Garrison Inn aims to supply you with a ConQuest player ticket and a comfortable tent hotel experience, so that you spend less time preparing for the event and more time LARPing at ConQuest.
Why do we offer a Garrison Inn deal?
Germany is very popular when it comes to LARP events, which is why many international attendees travel great distances to participate. We understand the effort involved in traveling said distance, while also transporting tents, bedding and cooking accessories.
Enter project "Garrison Inn" - The ConQuest Tenthotel
Our Tenthotel strives to solve all your logistical issues when attending ConQuest. When you book a tent deal with us you will not have to worry about pitching a tent, or taking it down, or bedding. The Garrison Inn has got you covered!
What is included in your ConQuest "Garrison Inn" deal?
Your deal will include a ConQuest player ticket, a tent (180cmx250cm), situated in a cordoned off Out-Game area adjacent to the Tross (Town). If you book the double deal we can supply you with a tent for two people (250cmx300cm) and two ConQuest player tickets.

You access the Tenthotel via an authentic In-Game bar and lounge called the Garrison Inn.
Your tent will be kitted out with:
Light
Storage Box
Wooden planking to ensure dry floor space
Electricity in the Garrison bar
If you can't or do not want to bring your own sleeping gear then we will supply you with the following free of charge:
Field bed
Cushion
Sleeping bag
You may purchase food at your own leisure within the Tross. Our English speaking staff will be available on site for all your needs. At the end of the experience you may chose to purchase your tent at a reduced price. Special plot is not included ;)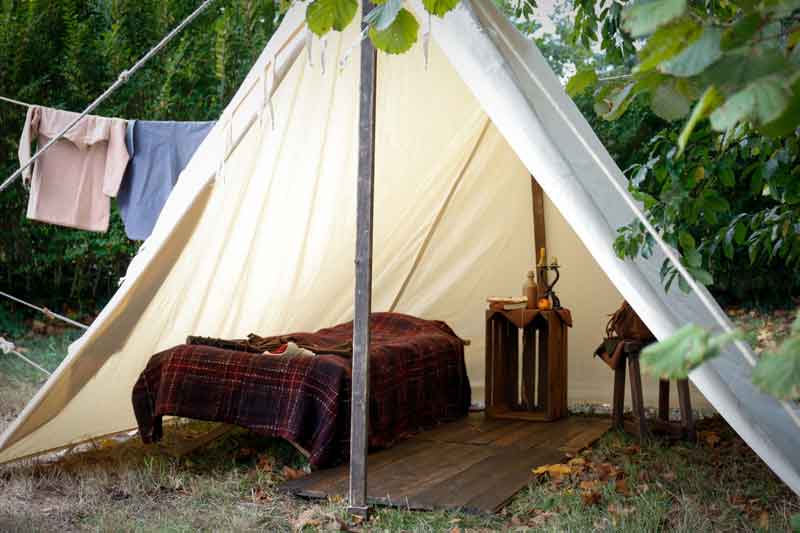 The "Garrison Inn"
The Tenthotel is located in an out-of-game location, fenced off and reached by passing through the in-time cozy "Garrison Inn", where you will be able to relax and purchase a cold or hot beverage. In addition there will be ample ambient lighting, seating and crackling campfires to tell breathtaking stories around. The "Garrison Inn" is the place to be after a long day of slaying monsters and looking epic. Luckily, the inn is only a few steps away from your ready made tent and comfortable bed.
Garrison Inn Prices
Booking the ConQuest Tenthotel will cost 349,- € for a single person including one ConQuest player ticket.

For two persons 698,- € including two ConQuest player tickets.

Alternatively you can book the Tenthotel deal on top of your player ticket for 199,- € per person.

The tent can be used from the first day of arrival (Sunday, 01.08.2021, 12:00 noon), any early-arival-fees that may apply, please pay as usual at the ConQuest check-in.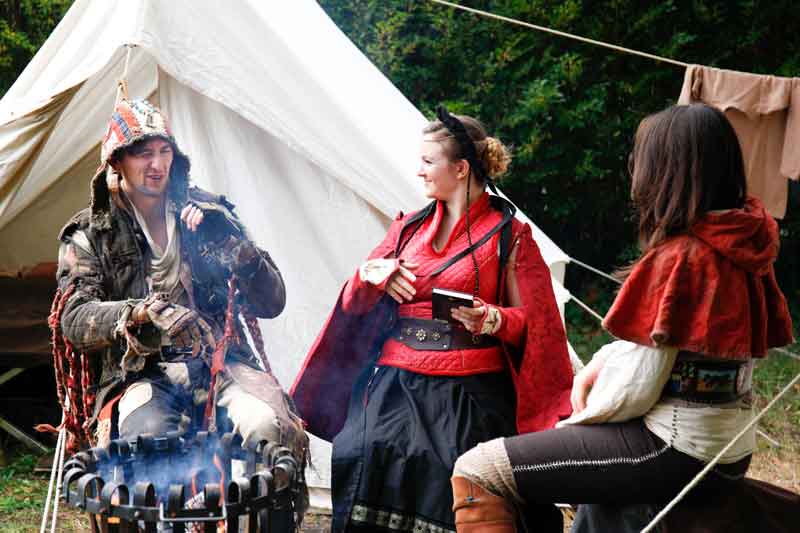 Garrison Inn Shuttle service from Frankfurt am Main and Hannover Airport
You can book a bus shuttle service going to ConQuest leaving from Frankfurt am Main airport and Hannover airport on 03.08.2021, you will receive a notice with the time of departure. The shuttle will transport everyone who is on time and has booked the service in advance. The shuttle service will depart from Brokeloh to Frankfurt am Main airport or Hannover airport on 08.08.2021 at 13:00. The Frankfurt airport shuttle package costs 110,-€. The Hannover airport shuttle package costs 45,- €. Registration follows.
Directions to ConQuest
ConQuest is organized 04.-08.08.2021 at Rittergut Brokeloh 1, 31628 Landesbergen, Germany.

You will have to take a train to Nienburg station, from where you can take a bus (line 50) for 30min. The bus runs hourly, except for Sundays. Please remind your driver to stop at Brokeloh. From there you will find signs directing you to the event.